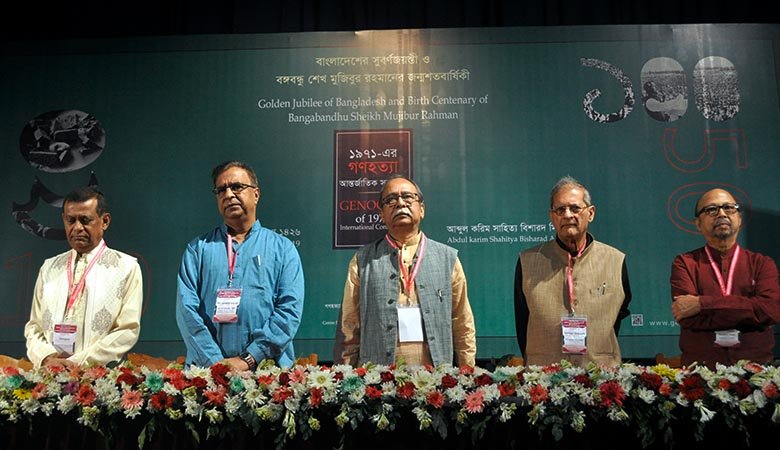 Distinguished guests attend an international conference titled 'Genocide of 1971, Golden Jubilee of Bangladesh and Birth Centenary of Bangabandhu Sheikh Mujibur Rahman' at Bangla Academy in capital on Friday. Photo: BP
Speakers on Friday urged people across the globe to raise voice against genocide and bring the killers under trial so that no one will dare to commit such crimes in future. They came up with this remark at an international conference titled 'Genocide of 1971, Golden Jubilee of Bangladesh and Birth Century of Bangabandhu Sheikh Mujibur Rahman'.
The conference was organised by the 'Center for Genocide-Torture and Liberation War Studies' in collaboration with 'Bangladesh History Congress'. The programme was held at a time at several venues, including at Abdul Karim Shahitya Bisharad Auditorium, Poet Shamsur Rahman Auditorium and Shahid Munier Chowdhury Auditorium of Bangla Academy in capital Dhaka.
Scholars from Italy, Cambodia, Turkey, Myanmar, Britain, India and Bangladesh took part in the two-day long conference. Addressing as the Chief Guest at the function, State Minister for Cultural affairs KM Khalid, said, "The birth century of Bangabandhu will be celebrated nationally. A committee led by the Prime Minister has been formed in this regard. The Mujib Borsho will also be celebrated next year."
Praising the activities of the genocide museum, the state minister said, "Prime Minister Sheikh Hasina has led the fight against the ill-politics started after the assassination of Bangabandhu in 1975. She has completed her father's unfinished tasks. The establishment of the genocide archive and museum is a part of the work that will commemorate the sacrifice of the martyrs."
Professor Muntassir Mamoon, President of `1971: Genocide-Torture Archive and Museum Trust' said, "A six-storey genocide museum has been constructed in Khulna with the initiative of the Ministry of Cultural Affairs. It is the only genocide museum in South Asia for the conservation of the signs of the genocide. It is important for the future generation to make them enlightened about the sacrifices of their ancestors for the motherland."
About Rohingya crisis, Muntassir Mamoon said, "Rohingya problems need to be resolved internationally. Otherwise, Bangladesh and its surrounding countries will be affected by the militants and fundamentalism." Writer and film maker Shahriar Kabir said, "Here, we have to focus on two major issues. One is Rohingya genocide and another is the Genocide of Bangladesh in 1971. We should raise our voice for the confirmation of justice and need to take necessary step to put an end to the sufferings of the future world related to war atrocities."
Dr Syed Anwar Hossain from Bangladesh, Hiranmay Karleker from India, Ferhat Atik from Turkey, Dr Khin Zaw Win from Myanmar discussed on different genocides in the world.